Transporting automobiles from England to Germany
we love it and we do it well
We all know that the English Channel makes England slightly more difficult to reach than other countries. And driving on the left-hand side of the road is an adventure for all those not used to it, which is why it is so important to leave the transportation of a valuable vehicle from England to Germany in the hands of someone who knows what they are doing. Rest assured Car-Port will organise the transportation of your vehicle from England to Germany – and of course back again – professionally and quickly.
Car-Port transports over 1,200 vehicles every year throughout Europe, mainly between England and Germany. Consequently there is almost nothing we do not know about how to transport vehicles from England to Germany. Custom's formalities, insurance aspects and the necessary expertise about how a valuable vehicle can come through a journey of this kind unscathed is second nature to us.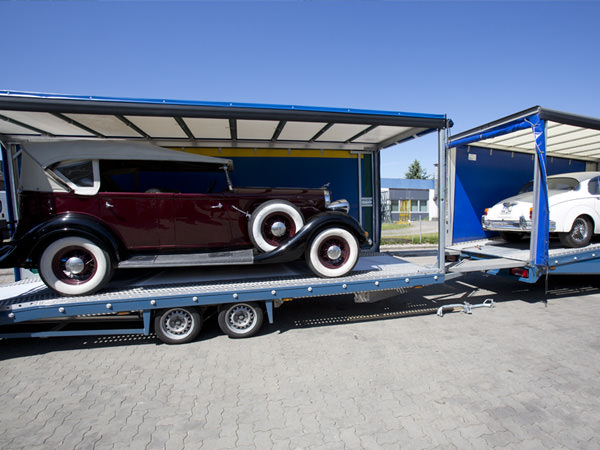 Safe transport from A to B
perfect service from A to Z
Transport services
One or ten vehicles? No problem with Car-Port!
Our fleet comprises five modern and environmentally-friendly transporters of various sizes. The smallest transporter is specially designed for express transport orders being able to load one transporter and one car or up to six motorcycles. The four larger transporters can each hold up to 10 cars.
In addition to open transporters, we are also able to offer closed transportation for those special items that deserve extra protection and to be kept hidden from prying eyes. As you see: Car-Port can offer you almost any transport variant you require between England to Germany.
Large or small? Old or new?
Car-Port has a solution for everything!
In addition to cars and motorbikes, we have also been transporting veteran and vintage cars for the past few years. The automobile has a long and often turbulent history in England and Germany. Accordingly there is a high volume of vintage cars changing hands between collectors in both countries. You can be assured, anyone who loves his vintage car takes special care that its transportation from England to Germany or vice versa is planned and executed very carefully and safely. We know that and always strive to meet the very highest of standards. We not only focus on safe transportation between England and Germany, but also on punctuality. Who wants to wait longer than agreed for their favourite collector's item?
A further expanding field involves the transportation commercial vehicles from England to Germany. Collectors of historical tractors and other commercial vehicles can trust us thanks to our flexible vehicle pool and years of experience.
Are you planning a transport from England to Germany? We will be happy to advise you. Just send us an email or give us a call.
We provide our customers with a service that comprises collection, safe transportation and delivery to the designated destination.